More Places to Visit in Riyadh
More Places to Visit in Riyadh
Riyadh is unlike anywhere on the planet, it can leave one in complete awe. With its bold fusion of traditional and modern architecture, the kingdom's capital is truly an engineering marvel. With sky-high scrapers, exclusive shopping plazas/malls, recreational parks the bustling capital offers so much more for every individual.
Here is a list of more places you can visit and explore in Riyadh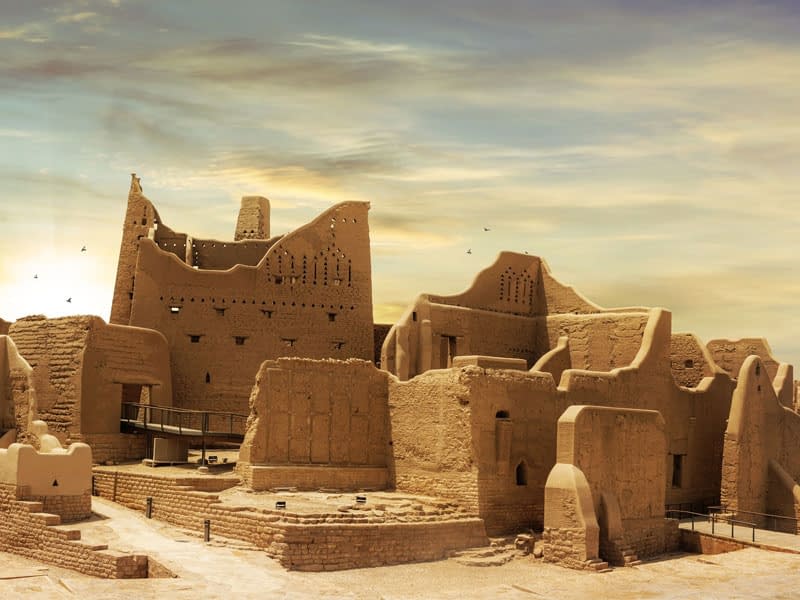 Diriyah
Considered to be a UNESCO World Heritage Site, Diriyah is a historical gem of the Kingdom nestled closer to the North-Western outskirts of Riyadh. Home to the Saudi Royal family in the past, Diriyah is the first capital of the kingdom. Once among the largest cities of the Arabian Peninsula, Deriyah was to foresee an unfortunate clash between the Ottoman and Saudi armies which resulted in the city's destruction. Diriyah is now a high-spirited and lively destination among tourists due to the ancient mud architecture and the well-known courtyard of Saad bin Saud Palace.
Murabba Palace
Just a few feet away from the National Museum you will come across one of the beautiful historic marvels of Riyadh, the Murabba Palace. The exquisitely architectured building is the former home of the founder of Modern Saudi Arabia, King Abdul Aziz. Serving its authentic looks the palace is considered to be one of the firstly erected buildings marking the major expansion outside the walls of the old city. The palace is home to a remodeled mosque, courtyard house, old water tower, and a collection of vintage cars.
Al Thumairi Gate
Endowed with rich history, Al Thumairi Gate is a reconstructed ancient city gate that was part of a group of nine gates that led to the city in the past. Dropping hints on traditional Arabian architecture, the beautiful gate is designed with mud and wood with a small tower right behind it. Al Thumairi Gate is located just a few steps away from the famous Al Masmak Fort monument. Make sure you pop in by the gate for a quick exploration!
King's Forest
Satiate your mind, body, and soul's peace with a relaxing stroll in the luscious greenery at the King's Forest. King's forest is bestowed as a green oasis in the middle of the desert. This beautiful naturistic destination is located 100km North of the kingdom's capital, Riyadh. The forest is a beautiful expansion of mother nature where sits the private farm retreat of King Abdullah Bin Abdel Aziz. King's Forest is considered to be a sanctuary for wildlife and a haven to us humans looking for a perfect eco getaway to unwind ourselves. You can get an adventurous camping experience with your family and friends at King's Forest.
Explore Apartments & Villas in Riyadh, Saudi Arabia
2 Bedroom Premium Apartment