Activities To Do in Riyadh
Activities To Do in Riyadh
Riyadh is full of life with a vast range of things to do that will leave you in complete awe. Boasting the perfect blend of modern and cultural variance, the bustling capital of the Kingdom is the pioneer in providing a variety of exciting activities to easily tick off your bucket list. The incredible landmarks, attractions, and the panned outspread of architectural specter throughout the whole city will always keep you on your toes
We've come up with a list of appealing activities in Riyadh for anyone willing to experience nature and brand-new adventures.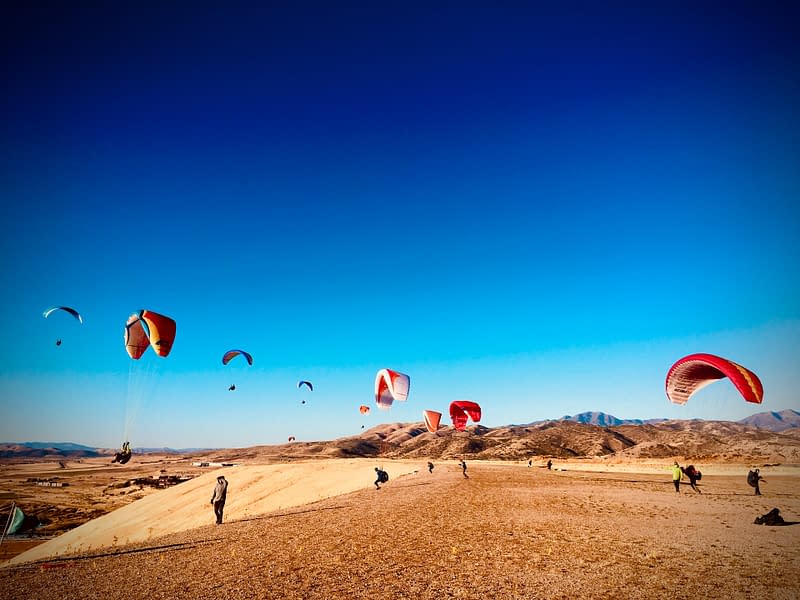 Paraglide your way to adventure
Embark in an exhilarating adventure through the fluffy clouds of the city. Paraglide your way over the far stretches of sand and witness the magic of the Arabian landscape and scenery. Paragliding is flying on a low-weight glider aircraft with a motor and is often considered to be a very popular activity among Riyadians. Paragliding activity often offers you a memorable experience that's like a Falcon freely flying through the clear blue skies. Paragliding in the beautiful kingdom while experiencing the iconic views is a thrilling experience you wouldn't want to miss.
Sand Board(aka Sand Surfing) through the Dunes
You can experience the finest adrenaline rush of dessert activities under the scorching Riyadh sun. Sandboarding is one of the many out-of-the-world experiences Riyadh offers to all thrill-seekers! The golden dunes and the vast spreads of sand of the kingdom is ideally the best location to experience sandboarding activity. Sandboarding is almost alike snowboarding but is practiced on dunes with a specific board called a sandboard. 
Have a cycling tour
The dedicated cycling tracks throughout the natural parks and recreation spaces have made Riyadh one of the most popular cycling destinations in the kingdom. You can explore your love for cycling by joining specific cycling clubs with other cycling enthusiasts. One of the most popular cycling clubs in Riyadh is Darrajati. There's plenty of bike shop units offering bike rentals around the city.
Aim for the Bull's eye with Archery
Get your bow and arrow, draw the string with your core strength, aim and shoot for a Bull's eye! Archery, one of the most long-lived traditional sports from the past. It is now a significant recreational activity in most parts of the kingdom. Archery can improve extreme levels of focus, concentration, precision, and core strength. There's a handful of archery ranges in Riyadh. Some archery ranges will even let you buy your own set of bows and arrows.
Practice playing Tennis
Tennis is a beloved sport played by both Riyadians and tourists alike. Playing tennis has several meaningful benefits to everyone including increasing aerobic capacities, lowering resting heart rate and blood pressure, improving metabolic function, increasing bone density, lowering body fat, improving muscle tone, strength, and flexibility, and increased reaction times. There are many courts scattered throughout the city and its outskirts.
Horseback Riding
Another enthralling activity you can partake in at Riyadh is Horseback riding. Equestrian is an all-time favorite of many tourists visiting the Kingdom's capital. The golden stretches of sand of the Kingdom's desserts make it one of the best locations for horseback riding tours. Horseback riding has multiple benefits and recent research shows that horseback riding adds a therapeutic effect to one's mind. There are quite a few equestrian arenas scattered throughout the city.
Take a quick Road Trip
Take a road trip and visit every vast expanse of the untouched natural landscape of Riyadh. Lower the windows, feel the natural wind against your skin, drive through the immaculate stretches of desert roads and experience the true beauty of the golden paradise. Discover the breathtaking sights along the way on your road trip!
Go on a Food Spree
Saudi Arabia has a colorful food culture with mouth-watering dishes from all its surrounding countries Yemen, Egypt, UAE. In Riyadh, there is a variety of both local and international cuisine for you to experience. You can start your day in Riyadh by going on an absolute food spree to experience the authentic and flavourful culinary wonders.
Explore Apartments & Villas in Riyadh, Saudi Arabia
2 Bedroom Premium Apartment